I am a full-time professional photographer based in Galveston County and throughout the greater Houston area. I am also available to travel for destination weddings. Please take a moment to view my portfolio and don't hesitate to let me know if you have any questions.
I have been taking photographs for over sixteen years and would love to put my experience to work for you.
Since I was a small child, photographs have been an important part of my life.  I realized at a young age how special and valuable pictures can be. My grandfather passed away when I was three and all I had to remember him by was a picture. This is just one of many reasons why I have a passion for photography. As I was growing up I loved going back and looking at family pictures, and then making my own scrapbooks as I got older. I learned that photographs are a tangible bridge to our memories and link our present to the past in a way that is timeless.
My first camera was a Minolta XG-1 my dad gave me; I used it to begin my photography career as a member of the yearbook staff in high school. From there I became a photographer and photo editor for the student newspaper at Blinn College in Brenham. After transferring to Texas State University, I began working at The Daily University Star where I served as a photographer, then Photography Editor and finally Senior Photographer.
I have a Bachelor of Science degree in Digital and Photographic Imaging from Texas State University in San Marcos, Texas and am a member of Professional Photographers of America.
While it is true that anyone can take a picture, I decided to get a degree in photography so that I could gain as much knowledge and expertise as possible. I continue to use the most up-to-date equipment and the latest techniques to ensure that the pictures I take will capture the heart of the moment and be treasured for a lifetime.  Whether two or twenty years later, I want both young children and aging adults to be able to look at the photographs and immediately be transported back to a moment that truly has been made unforgettable.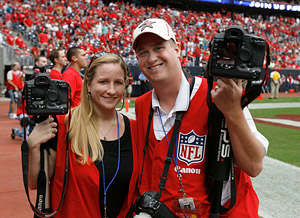 I will capture your special moments using Canon professional cameras and lenses. I own multiple "1 series" and "5 series" camera bodies and professional "L series" lenses ranging from 16mm to 300mm, all f/2.8 or faster.
Additionally, my husband Kevin is a professional photojournalist currently on staff at The Galveston County Daily News. He is available to assist me on any project that requires an additional photographer.